New brand by Effelle Pesca! "Le Bontà da Amare", Italian taste and health combined in a ready-to-eat good, ready in few minutes.
Mussels "marinara" style and mussels "tarantina" style, two recipes, a light, healthy yet tasteful ready meal that is easy to make with tastes delicius.
Quality, tradition and Italian style!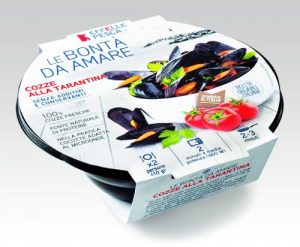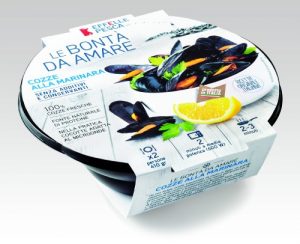 No additives and preservatives, only natural ingredients
Make with 100% fresh mussels
Ready in only 2 minutes by microwave or 2/3 minutes by pan
Made in Italy, traditional Italian recipes
Casserolle suitable for microwave cooking
Packaging 100% recyclable
     PREPARATION
MICROWAVE: Pierce or remove the film and heat at medium power (600 W)
IN A PAN: Pour the product in a flat pan, heat on a high flame for 2/3 minutes, stirring from time to time
AS A SOUCE FOR PASTA: Drain the pasta 2 minutes before end of cooking and pour it direcly into a pan with the previously heated souce. Mix the pasta and souce togeder until end of coocking